When importing photos into your laptop or desktop PC, you might have seen .HEIC at the end of the file name. Opening these files might be troublesome on anything other than an iPhone or a Mac. HEIC is a newer image format that is not yet supported by all devices and software, so you can learn how to convert HEIC to JPG on a Windows PC in just a few mouse clicks. Let's find out how to quickly open, convert, and even print these files.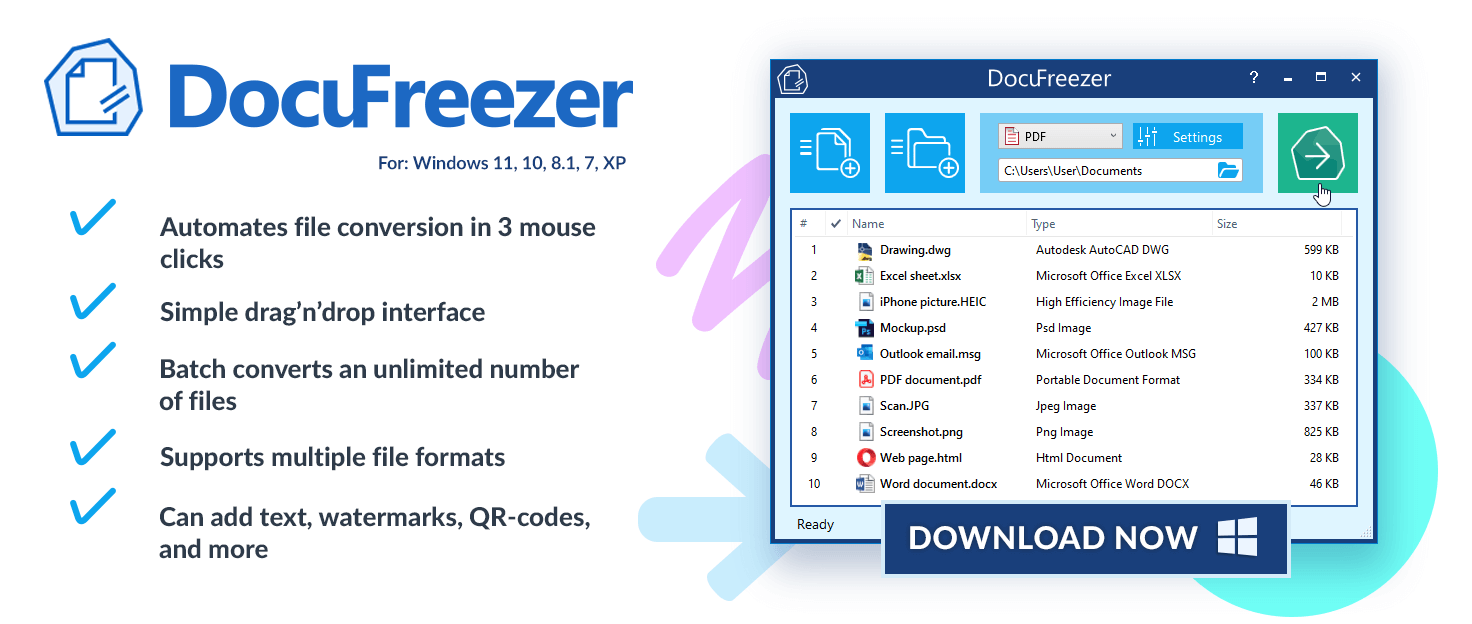 HEIC to JPG offline converter for Windows
DocuFreezer is a great tool if you're looking for an offline HEIC to JPG converter rather than an online service. It will help you save your images or documents as JPEG files (or PNG, TIFF, PDF) with just a few clicks. The software ensures flawless file conversion and high-quality output JPEG files. The files can also be compressed, watermarked, and renamed in batch mode.
DocuFreezer supports HEIC as input file type (.heic, .heif). It is mandatory to
install HEIF and HEVC
codecs along with DocuFreezer to allow batch conversion.
How to convert HEIC to JPEG – step-by-step instruction


Select JPEG as output format;
The converted images will appear in the output folder quickly; it usually takes a few seconds but will depend on the number of files. DocuFreezer does not require Internet connection (unlike many file converters!). So if you have a couple of large photo albums to convert, it will save you a bit of bandwidth – you won't waste time or data uploading several megabytes or even gigabytes to the Internet.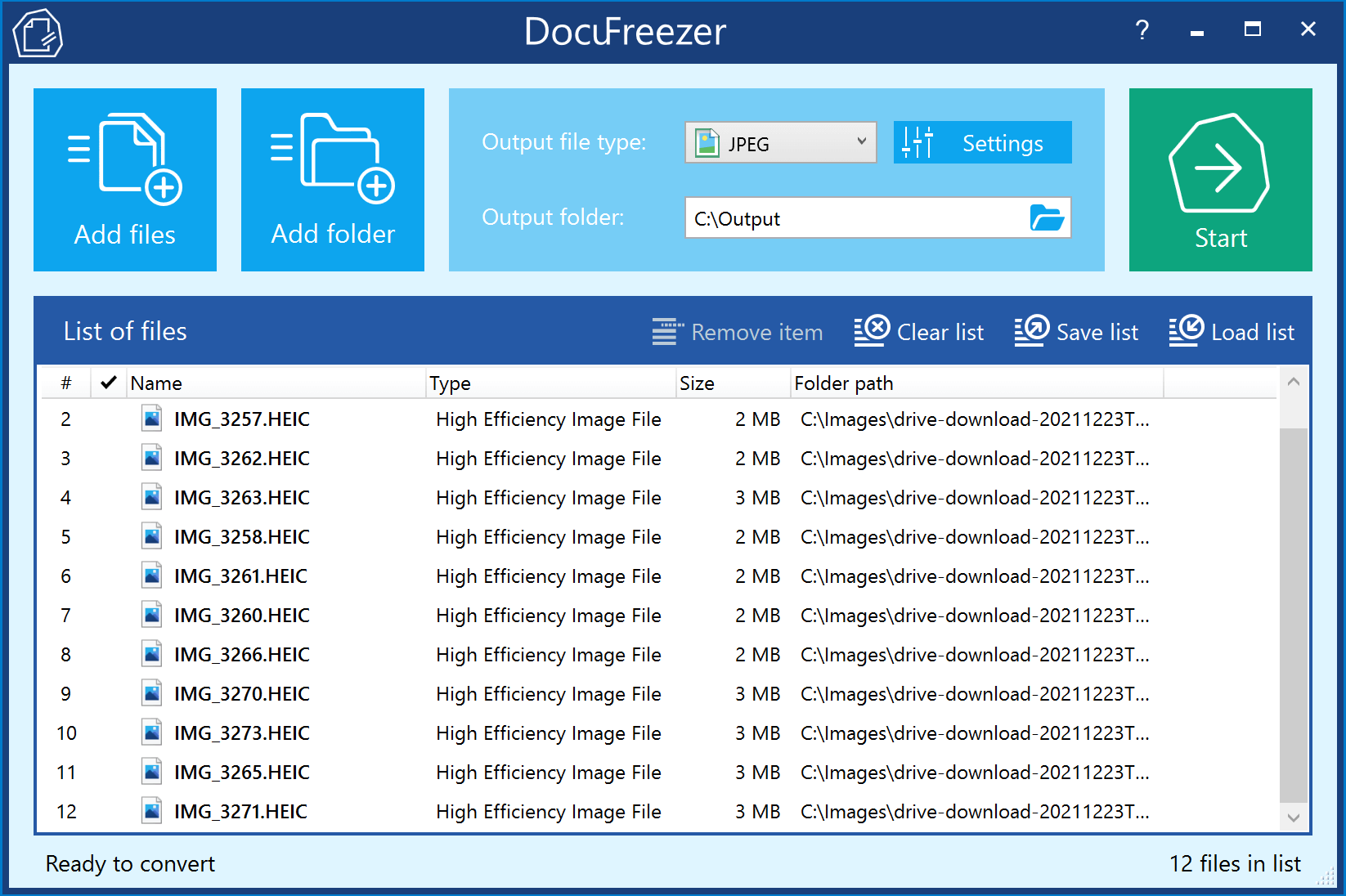 Video instruction
Advantages
| | |
| --- | --- |
| ✓ | Simple drag'n'drop interface |
| ✓ | Unlimited conversions per session |
| ✓ | Offline converter ensures your data is 100% secure |
| ✓ | Does not affect your Internet data usage |
| ✓ | Allows converting multiple files in bulk rather than each file separately |
| ✓ | Can create optimized images out of digital photos to be uploaded to a website |
| ✓ | Can be used to create backup copies for archival purposes |
| ✓ | Allows to select output quality (25-100%) and other parameters |
| ✓ | Besides JPEG, supports other output formats: PDF, PNG, TIFF |
Features
Adjusting the quality of the output JPEG images
In most situations, you don't need to change any DocuFreezer settings to batch create JPEG images out of HEIC photos. Just follow the three steps – add the files to the List of Documents, select Output file type: JPEG as file format, and press Start.
However, for the best quality vs. file size tradeoff, you may want to choose output file size or quality to produce better JPG files. To do it, change the Quality (85% by default) – you'll find this parameter in the Common settings.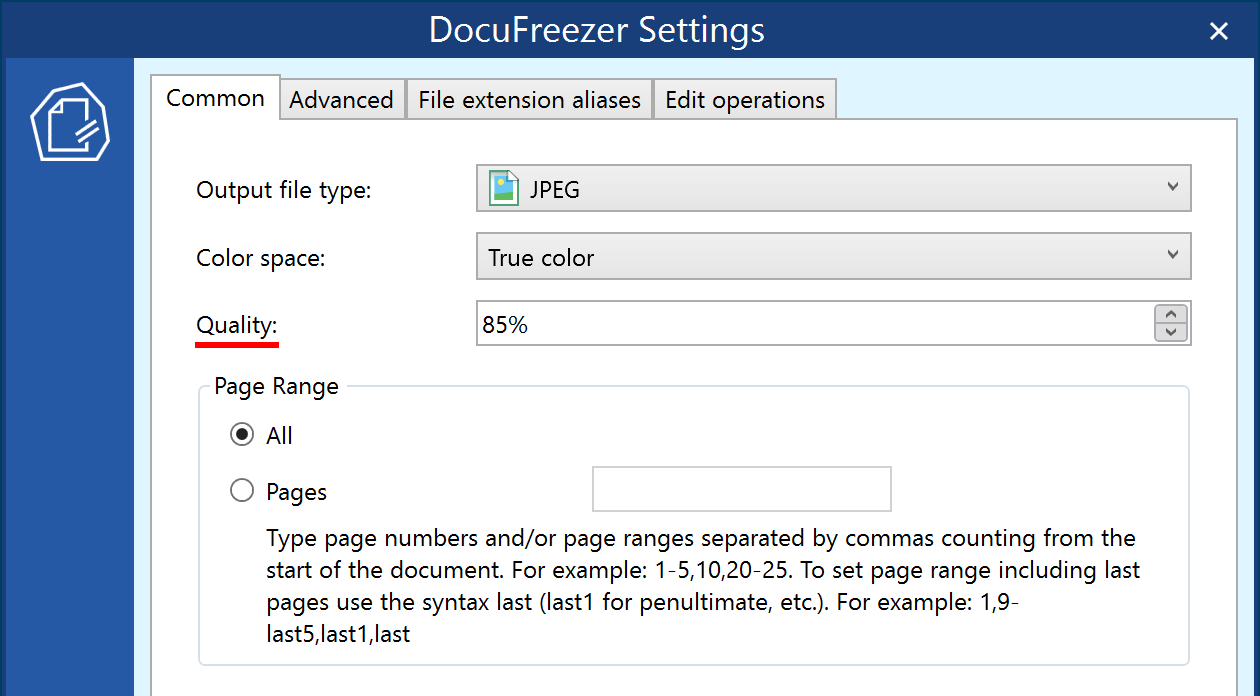 If you open DocuFreezer Advanced Settings, you may be overwhelmed by them at first glance. But for HEIC to JPEG conversion, it's worth checking only Available output formats > JPEG. If you want to fine-tune the output JPG images, there are plenty of options to choose from. Depending on your requirements, you can configure pixel type (color space), sampling, quality, Huffman tables optimization, compression mode, and other parameters.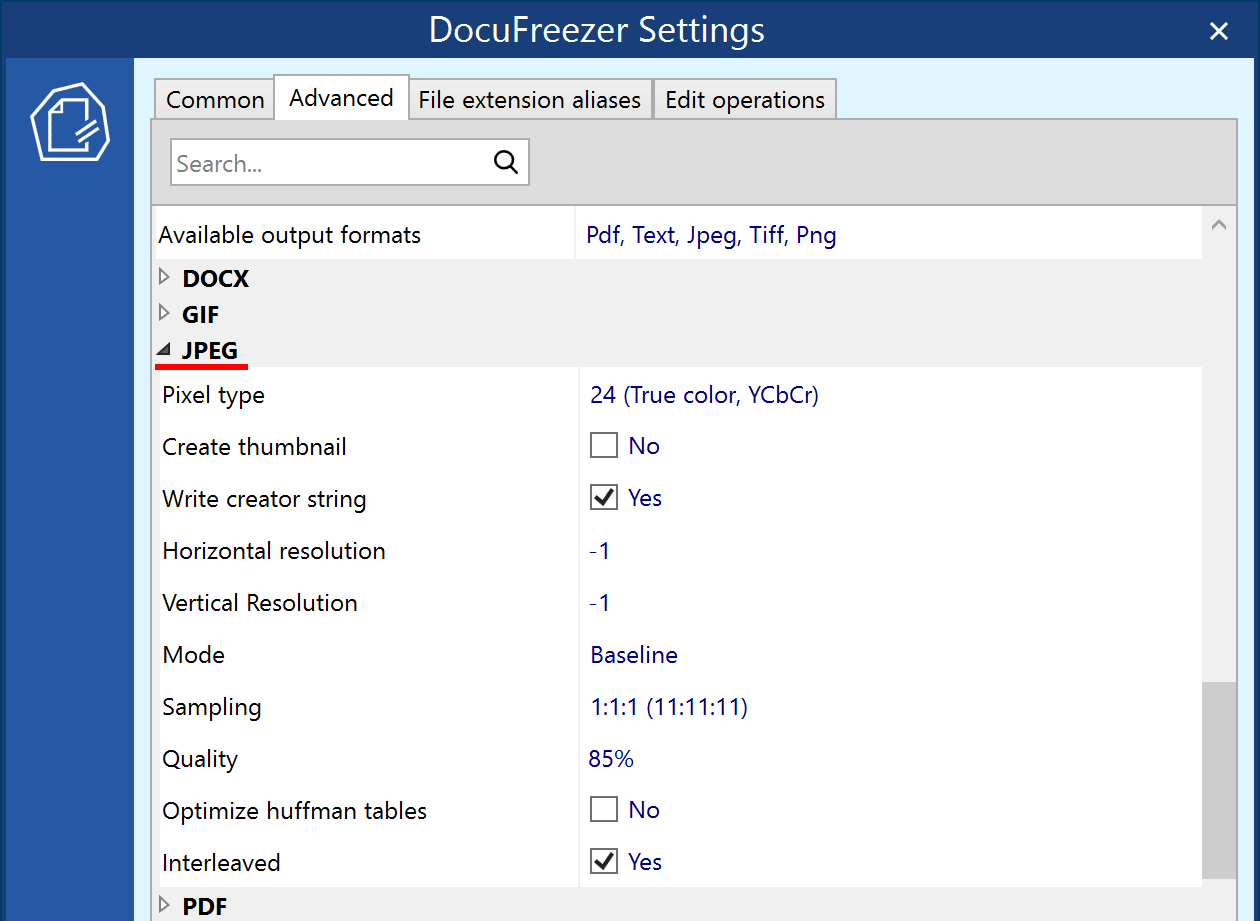 Batch print HEIC files with Print Conductor
You can batch print multiple HEIC files the easy way with Print Conductor. Whether you're printing to a virtual or 'normal' printer, just add several HEIC files to the program's List of Documents and press the Start Printing button.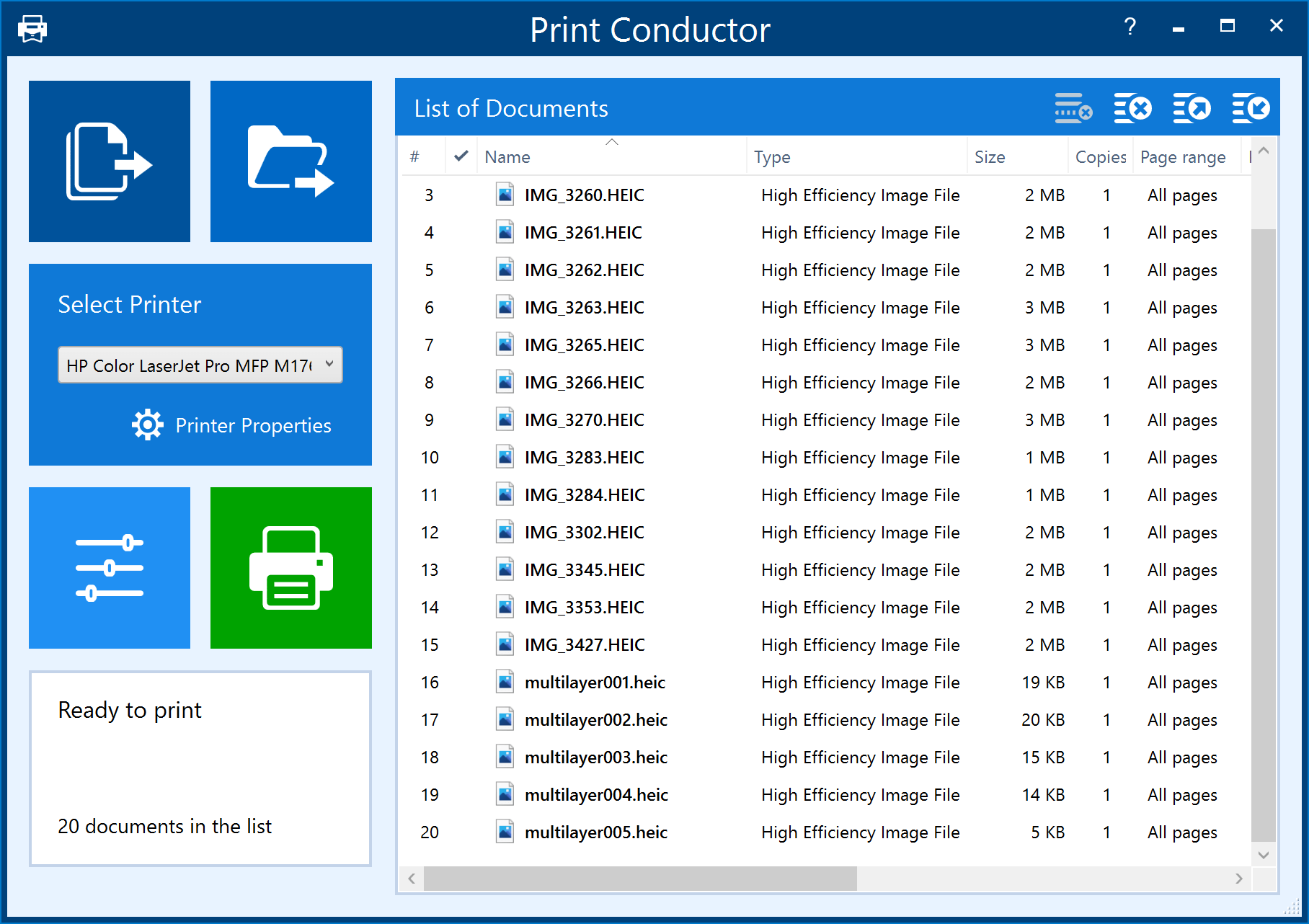 Print Conductor can be especially handy if, along with the images, you also want to print documents like PDF or Word files or apply some additional settings.
For batch printing .heic files with Print Conductor, you'll need to have
HEIF and HEVC codecs
installed.
HEIC vs. JPEG
The disadvantage of HEIC is that it's not widely used beyond Apple devices. However, HEIC has a more advanced compression algorithm than JPG so that the photos will take up less disk space. Both of these formats have their perks, and you might need to batch convert HEIC to JPEG because the latter is still the most commonly used file format.
What is HEIC?
HEIC (High-Efficiency Image Container) is Apple's proprietary version of the HEIF or High-Efficiency Image File format. HEIC format is a file used to store images and videos on Apple's devices like iPhone or iPad. It is related to the HEIF (High-Efficiency Image Format) standard that stores high-quality images. This is a relatively new standard format for storing images on Apple's devices. Unfortunately, HEIC has no native support on Windows and Android platforms. So, to view or edit HEIC images on various devices, you might want to convert them to the JPG format first.
What is JPG?
JPG is a widely used image format supported by all operating systems, including Windows, iOS, Android, Mac, etc. The level of compression can be adjusted, which allows a selectable tradeoff between storage size and image quality. JPG typically achieves 10:1 size reduction with little visible loss in image quality. The format is almost 30 years old.
| HEIC | JPEG |
| --- | --- |
| Developed by Moving Picture Experts Group (2015) | Developed by Joint Photographic Experts Group (1992) |
| Not widely compatible with apps or devices other than Apple's | Tried-and-true format opened and accepted on most devices and apps |
| Next-gen file compression offering even better compression (compared to JPEG) while preserving image quality | Widely used in web publishing thanks to lossy image compression technique |
| Capable of storing images and animations (image sequences, "live photos"). HIEC can store batches of images at a time, just like GIF. | Capable of storing images only |
| File size roughly 2 times less than JPEG. HEIC files are typically smaller than average JPG or PNG files. | Relatively small file size |
| Supports 16-bit color | Supports 8-bit color |
How to view HEIC photos on a Windows computer
Microsoft has released a codec called HEIF Image Extensions, which will allow you to view and open HEIC files. Once you have it installed, your system will see HEIC photos just like any other image file. But the codec is only available for Windows 10/11, so if you're running an older OS, then you'll need to use a file converter to convert your images.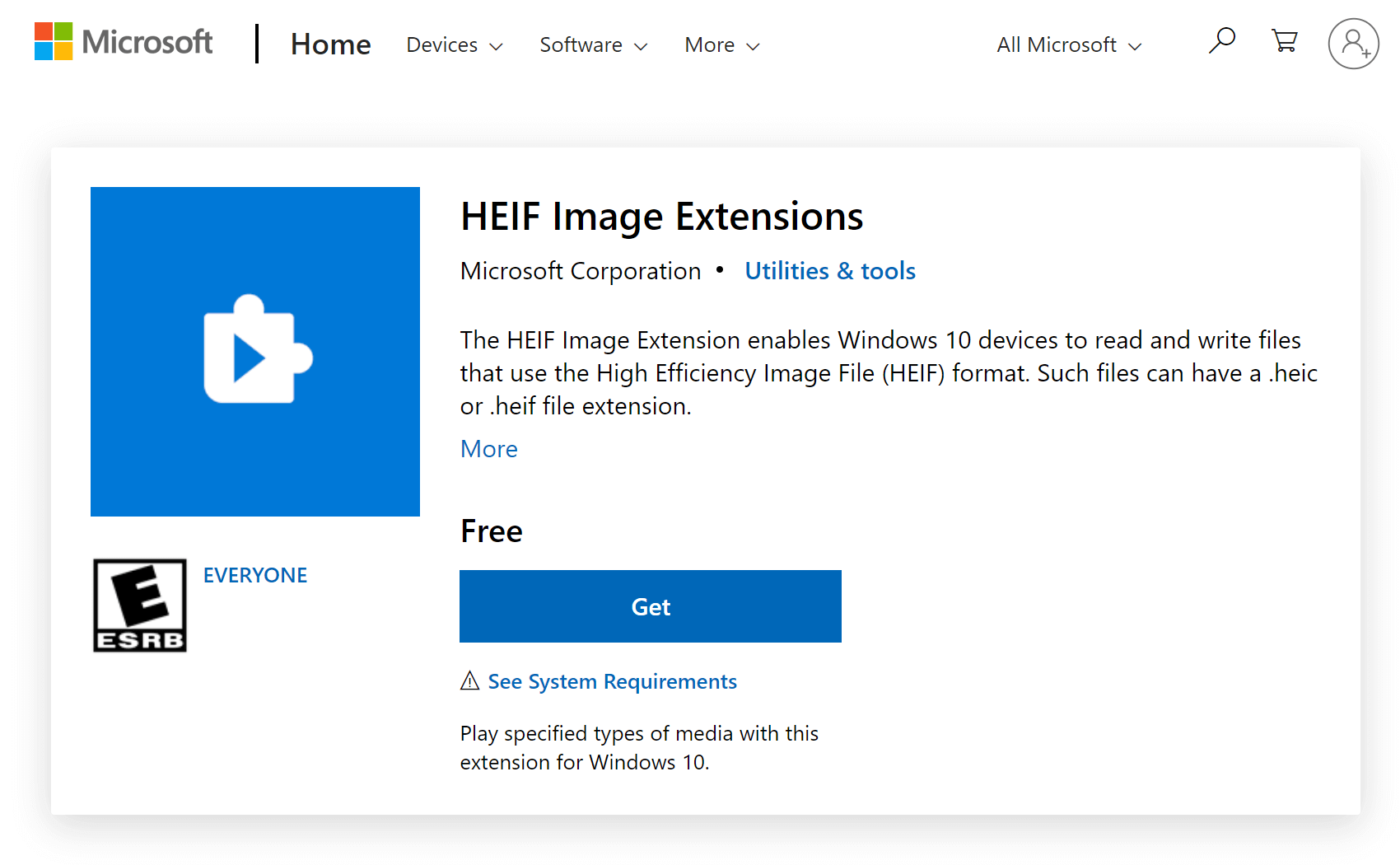 Windows 10 and 11 allow native support for HEIF files on Windows Photos. The feature is not enabled by default, and the Windows Photos app provides a link to a paid extension in the Microsoft store. The extensions would cost $1 (it is a one-time purchase). After installation, you can view HEIC images on a Windows 10/11 PC. Installing both these extensions is required; having a HEIC file extension alone without HEVC extension would fail to view HEIC images (HEIC and HEIF are based on High Efficiency Video Coding (HEVC)).
How to install additional codecs
Now you know how to turn multiple HEIC files into JPEGs. You can try out the trial version of DocuFreezer and see if it works for your tasks.