DocuFreezer is a powerful desktop converter for Windows that can convert multiple documents, images, drawings, and other files to a convenient format all at once. This quick start guide will show you how to easily convert multiple files and get started with the program with minimal effort.
How to start batch converting quickly
If you do not have any special requirements or additional settings to apply, follow these three simple steps to quickly perform batch conversion:
Add one or several files to the List of Files;
Select output file format: PDF, TXT, JPEG, PNG, BMP or TIFF;
Click the Start button to begin conversion.

What types of files can be converted?
DocuFreezer supports many popular file types. To learn more about these supported formats, please refer to the Supported Formats page.
Adding files to DocuFreezer in different ways
Adding files to DocuFreezer using drag-and-drop
The easiest way to add files to DocuFreezer is by using drag-and-drop. First, select the files you want to convert. Then, click and hold the primary mouse button and move the files onto the white space of the DocuFreezer window (the List of Files area). Release the mouse button and the files will be automatically added to the conversion queue.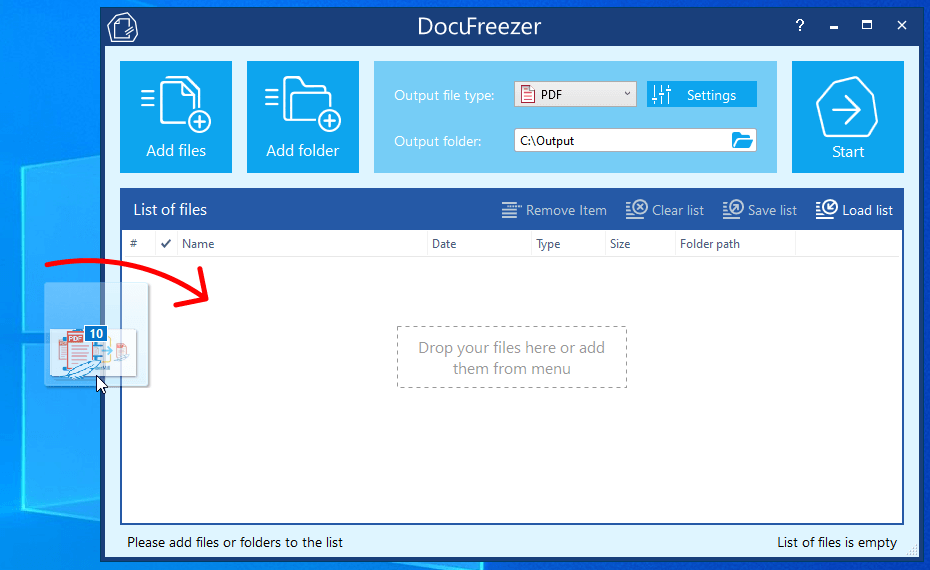 After the conversion, you will find the output files in the Output folder.
Importing files or folders using the Add files or Add folder button

To add one or more files, click the Add files button and browse for the files you want to convert. You can also add RAR, ZIP, 7ZIP, and other types of archives; the program will convert the files within the added archive(s).

To add an entire folder with files, click the Browse for folder button. You can also specify only certain file formats by changing the *.* macro (e.g., *.doc,*.docx) next to File types to add or use a Custom filter to apply a file mask.
Adding folders and RAR, ZIP, or 7ZIP archives to the List of Files
Adding entire folders or archives (RAR, ZIP, etc.) is just as simple as adding regular folders or individual files. You can use drag-and-drop or the Add files / Add folder button to do so.
Adding files directly from Microsoft Outlook
To convert email message files to PDF or other formats, you need to add them to DocuFreezer first. You can import email files by dragging and dropping them onto the DocuFreezer main window, just like any other files. If you try adding emails directly from Outlook, they get automatically imported to the List of Files.
Learn more about processing emails →
Importing a list of files from an Excel spreadsheet
To import a list of files, click the Load list button and select an Excel spreadsheet (XLS, XLSX, CSV). The spreadsheet should contain file paths listed on separate lines below a header named #file. It is necessary to enter the full file path for each file.
Saving & loading Lists of Files

Click this button to remove one or several selected items in the List of files

Click this button to clear the List of files

Click this button to save all currently added files as a list for future use. The list will be saved as a .FLIST file

Click this button to load a previously saved list of files (.FLIST file). You can also use an Excel spreadsheet (XLS, XLSX) as a list.
Configuring DocuFreezer Settings
In addition to conversion, DocuFreezer is capable of performing various other tasks. If you want to apply specific parameters or adjust settings, click the Settings button. The Settings window contains:

How to change interface language
DocuFreezer is available in different European languages. The program's language can be switched in the Advanced Settings. If you want us to add more localizations, please let us know!