Spend Less Time on File Conversion!
DocuFreezer is a software for converting documents to PDF (.pdf) , JPG (.jpg, .jpeg), TIFF (.tiff, .tif), PNG (.png) or XPS (.xps) formats in batch mode. Now you don't need to open each file and export it to the desired format. Instead, just drag-and-drop your files onto DocuFreezer main window and click "Start".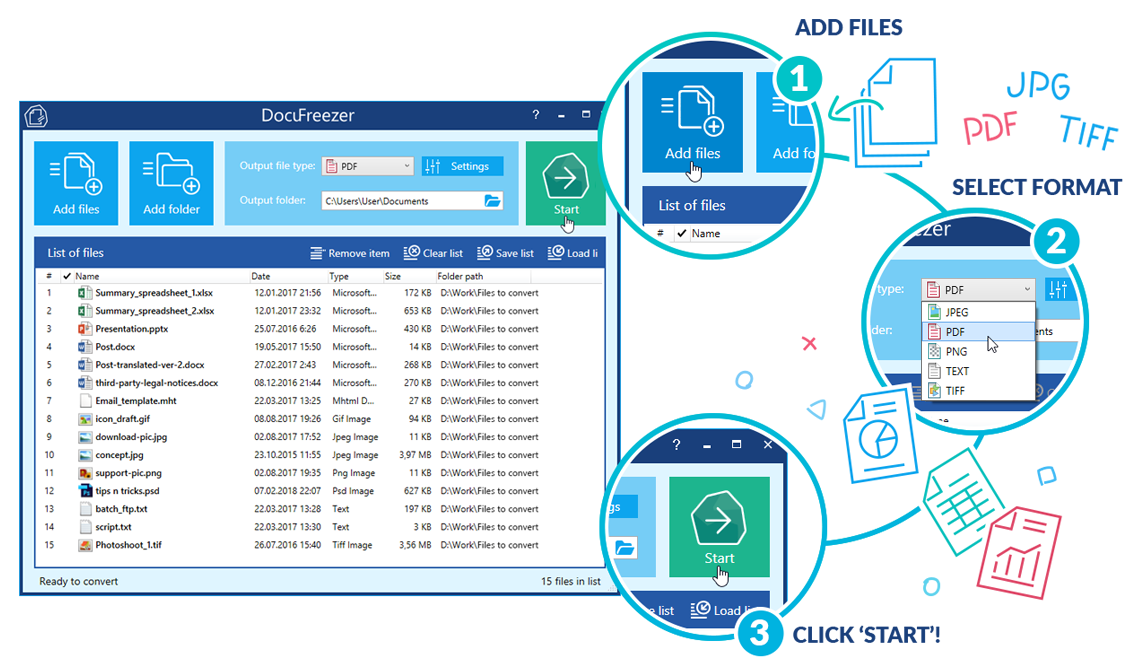 Supported Formats
DocuFreezer allows you to convert a variety of file types in batch mode.
Input filetypes
Microsoft Word documents .doc .docx
Microsoft Excel worksheets .xls .xlsx .csv
Microsoft PowerPoint presentations .ppt .pptx
Microsoft XPS files .xps .oxps
Adobe PDF and PDF Portfolio files .pdf
Autodesk AutoCAD and other CAD files .dwg .dxf
Plain text files .txt
Rich text files .rtf
Outlook e-mail files .eml .msg
And more!
Output filetypes
PDF (Portable Document Format)
TXT (Plain text)
JPG (JPEG image)
PNG (Portable Graphics Format)
TIFF (Tagged Image File Format)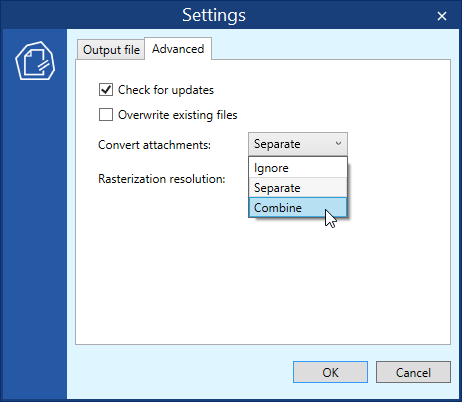 Converting File Attachments
In the Settings, you can specify how DocuFreezer should handle PDF attachments and e-mails in EML or MSG file format:
| | |
| --- | --- |
| Option | Effect |
| Ignore | Skip attachment(s) and convert only the body of the document |
| Separate | Convert each attachment and the body of the document separately |
| Combine | Convert both the body of the document and its attachment together |
Managing File Lists
If you usually convert the same files on a daily or weekly basis, file lists may come in handy. Just add your files to the program's list, arrange them in the right order and click Save list. DocuFreezer will create a separate file — File list (*.flist) which can be used over and over again by clicking the Load list button. You can import, export, clear lists and remove items from the lists.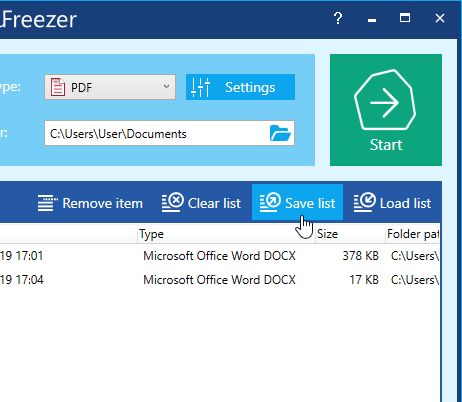 Download DocuFreezer to automate your file conversion.
DocuFreezer is free for non-commercial purposes!
Multipage Options: Merge, Combine & Split Options for PDF and TIFF
DocuFreezer can merge various files into PDF or TIFF as well as split and combine PDF or TIFF documents and add new pages to existing documents. You can also set the name for output files via Combine file option. Conversion of multi-page TIFF to PDF and vice versa is also possible. All in batch mode!
| | |
| --- | --- |
| Option | Effect |
| As in original file (by default) | Convert files added the list to separate files in selected file format, without splitting or merging them |
| Split into single pages* | Convert multi-page files added to the list to single-page files in selected file format |
| Merge into one PDF* | Combine all files added to the list and convert them to a single multi-page PDF or TIFF |
* The same works for PDF and TIFF format

Recognize Text Using OCR
DocuFreezer can OCR files (render using Optical Recognition Technology) and create plain text or PDF files out of them. The output files will have recognized text, which can be copied, edited and used somewhere else. Using OCR, you can export your scans, documents, images or CAD drawings into:
Plain TEXT files .txt
Searchable PDF .pdf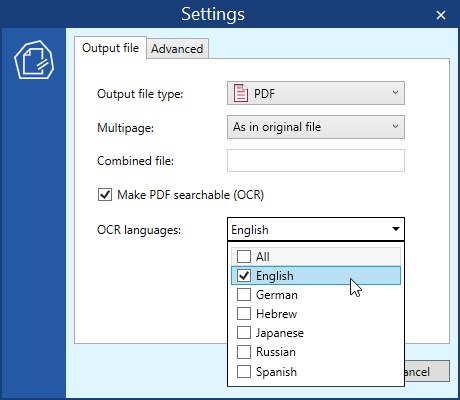 Convert files in RAR, ZIP, and 7-ZIP archives
You don't need to extract files your files in compressed by WinRAR (.rar), WinZip (.zip), 7-ZIP (.7z) or another archiving software before adding them to DocuFreezer list. Simply add an entire archive to the list and click Start.
Advanced File Conversion Settings
Some advanced settings can be modified in the program's Ini File Editor. To edit it, open DocuFreezer main window and press Ctrl + Alt + I on your keyboard. Each line has a variable value which can be changed. If you are not sure about a specific setting, please contact us!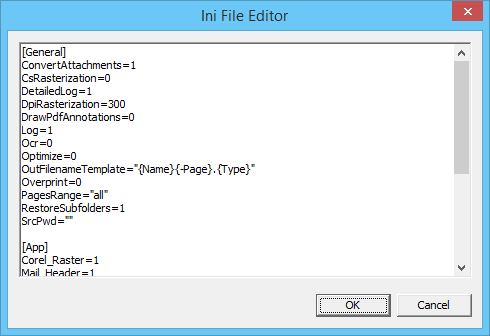 Download DocuFreezer to automate your file conversion.
DocuFreezer is free for non-commercial purposes!